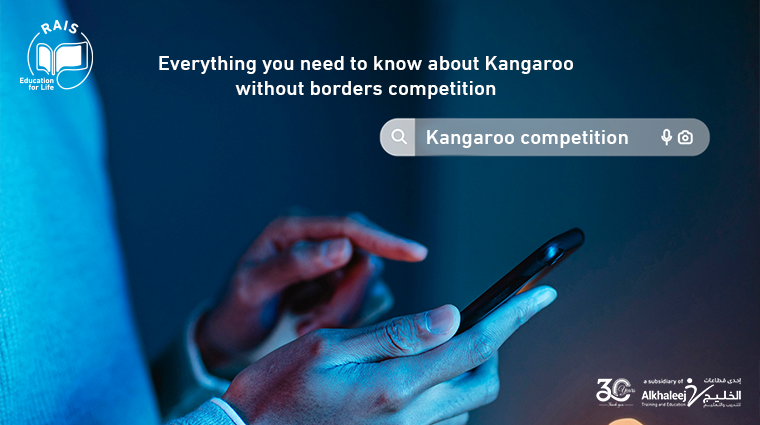 The prominent international math competition Kangaroo without Borders, sometimes referred to as the International Mathematical Kangaroo, is hosted in 92 nations throughout the world. 
This competition, which offers twelve participation levels ranging from grade 1 to grade 12, focuses on the logical integration of concepts rather than only testing formula knowledge. 
The competition is being held by Kangourou sans Frontières, an organization of math enthusiasts committed to advancing mathematical education, with the goal of fostering a positive societal attitude of mathematics and spreading its joy.
Why Participate in Kangaroo without Borders?
Participation in Kangaroo without Borders offers numerous benefits for students of all school levels. By engaging in this competition, students have the opportunity to:
Master Mathematical Knowledge: Kangaroo without Borders encourages students to deepen their understanding of mathematics and master essential mathematical concepts. 
Through challenging problems that go beyond standard textbook exercises, students develop their problem-solving skills and apply mathematical concepts in various contexts.
Enhance Problem-Solving Abilities: The competition's multiple-choice format presents students with intriguing and non-conventional problems that require imagination, basic computational skills, logical thinking, and creative problem-solving strategies. 
This enables students to develop critical thinking, perseverance, and creativity, essential skills that extend beyond mathematics.
Foster Interest in Mathematics: Kangaroo without Borders aims to create a positive perception of mathematics by offering engaging and thought-provoking problems. 
The competition fosters a love for mathematics by presenting questions with surprising results, encouraging discussions among friends and family, and showcasing the relevance of mathematics in daily life.
Join a Global Learning Community: By participating in Kangaroo without Borders, students become part of a vibrant global community of mathematics enthusiasts. 
They have the opportunity to connect with like-minded individuals, share experiences, and learn from the achievements and strategies of other participants from around the world.
How Has Kangaroo without Borders Spread Worldwide?
Kangaroo without Borders was established in Australia in 1980 and has grown significantly since then, reaching people all around the world. In 1991, it spread to France, and now it operates in more than 70 countries with a yearly participation rate of about 6 million pupils. 
Students from all cultural backgrounds have been drawn to the competition as its popularity has continuously expanded throughout Europe, Latin America, Asia, Africa, and North America.
How to participate in Kangaroo competition?
Participating in the Kangaroo competition is a straightforward process. Students can register their names for the exam through their schools, which often have affiliations or partnerships with organizations like the International Olympiad Academy, responsible for organizing the competition.
To register, students can seek assistance from their subject teachers or designated contact persons who will guide them through the registration process. The school will then share the necessary details of the participating students with the associated organization or foundation.
Candidates can obtain registration forms from their school authorities and fill them out in accordance with the provided guidelines. A registration fee is typically required for each candidate participating in the competition, and the fees may vary for national and international participants.
Once the completed registration forms are submitted, roll numbers are generated for each student. These registration forms, along with the assigned roll numbers, are then forwarded to the organization responsible for conducting the exam. Subsequently, the question papers are sent to the respective schools where the Mathematical Kangaroo competition takes place.
By following these steps, students can successfully register and participate in the Kangaroo competition, showcasing their mathematical skills and joining a community of enthusiastic learners from around the world.
Kangaroo without Borders in Saudi Arabia
In 2016, Saudi Arabia formally joined Kangaroo without Borders through the King Abdulaziz Foundation for Creative Talent (Talent). The following objectives are the focus of the competition:
– Motivate students to become proficient in mathematics.
– Enhance problem-solving and mathematics skills.
– Use mathematical ideas in practical contexts.
– Establish a competitive, engaging, and fun learning environment for mathematics education.
– Encourage students to understand the value of mastering maths.
Through Kangaroo without Borders, kids from all over the world may engage with a global community of math lovers, develop a passion for the topic, and demonstrate their mathematical prowess. Students can deepen their mathematics understanding, improve their problem-solving skills, and acquire useful life skills by taking part in this prestigious tournament. Sign up with Kangaroo without Borders now.
Rowad Al-Khaleej International Schools achievements at Kangaroo competition
The Kingdom joined the kangaroo Organization for the first time in 2016, under the umbrella of the King Abdulaziz Foundation and his men for talent and creativity, and the first competition was held in 2017, and about ten thousand students participated in that first competition at the kingdom level.
Additionally, Al-Khaleej pioneers international schools were at the top of those participating schools and about a hundred medals were awarded to them, ranging from gold, silver and bronze.
Rowad Al Khaleej International Schools won 32 medals in the 2020 kangaroo Mathematics Competition,, which was held then remotely, and the medals achieved by students came as follows:
4 gold medals

9 silver medals

19 bronze medals
Rowad Al-Khaleej International Schools were previously ranked among the top twenty schools in the kangaroo competition out of 2,000 participating schools nationwide. Additionally, Student/ Wajd Al-Sikhan, won the Kangaroo Mawhiba Mathematics Competition 2022. 
Kangaroo without Borders serves as a platform for students worldwide to showcase their mathematical skills, nurture a passion for the subject, and connect with a global community of math enthusiasts. 
By participating in this prestigious competition, students can enhance their problem-solving abilities, deepen their mathematical knowledge, and develop valuable skills applicable to various aspects of life. 
Stay informed about the Kangaroo competition by following our page Rowad Al-Khaleej International schools We'll keep you updated on all the latest news, including appointment announcements and the registration process. 
Resources:
Rowad Al-Khaleej International schools