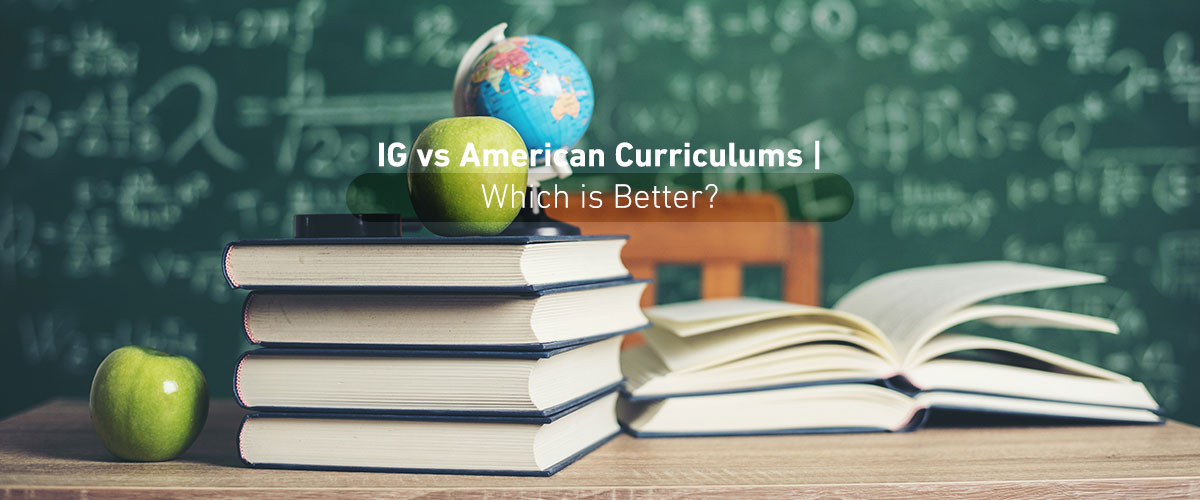 IG vs American Curriculums | Which is Better?
The closer the school season, the more parents wonder about which education system best suits their children.
Key stage International schools are well known for education systems that follow wide range of standards to get an international general certificate.
The most known systems are the British and the American, in reference to secondary education Cambridge IGCSE examinations vs. SAT Exams.
So what is the difference between IG vs American Curriculums? And what are the advantages and failures of each?
Introduction to the Curriculums
Each of the educational systems whether British or American has its own curriculum and special teaching methods that could suit certain students instead of others, while others consider them as failing.
Both the American and British educational systems have their own syllabus and teaching methods that may suit some students as benefits while being failing for others.
In light of these differences (IG vs American Curriculums), there are benefits, advantages, and failures that we will talk about in detail in the below lines.
The American System
The advantages of the American system include flexibility and cultural diversity that encourage students to innovate and develop critical skills. This is in addition to relying on broad-minded teaching methods that help him to think critically and creatively from a young age, and thus rely on the understanding, not on memory.
Thus, the American educational system does not constitute psychological pressure on students, as it provides them with the opportunity to determine and improve their level through the SAT test, which is an acronym for (Self Assessment Test), which helps students increase their score during the 12 school years.
The American education system provides an advanced placement curriculum that includes both scientific subjects and scientific research materials, and are high educational curricula that help encourage the child to search for information and communicate with it on his own with follow-up and assistance.
The American curriculum also ensures the development of the child's personality and boosts his confidence.
It works on a cumulative total system of 40% of the grades obtained in grades 10, 11, and 12. This makes the need for perseverance regular performance improvement by the studies throughout all study years. Consider this point by some as a deficiency in the American curriculum.
This system suits:
Students who are unable to perform well under psychological pressure.
Who favors diverse educational systems.
Able to commit regularly.
Who prefer conducting activities to assimilate and understand information.
Distracted and Hyperactive children by topics that do not interest them.
Who does not have the ability to determine their future at a young age?
The SAT Exam
It is an exam in the last year of the American general secondary educational school to prepare students to enter universities. It tests students in English and mathematics.
Despite its quality, universities in the Arab world do not consider it a qualified certificate equivalent to a high school certificate. The SAT certificate does not acceptable alone in the Arab world as adequate for school graduation.
So if students wish to enroll in an Arab university, they will need to pass another test in 5 subjects other than English and Mathematics. called the SAT2 or (SAT Subject Test), and accordingly, the two certificates together qualify students to enter universities in the Arab world.
The British System
The British curriculum base on the traditional direct educational methods, where the depth of information is because it is a heavy curriculum and contains focused information to get international baccalaureate.
In the British system (IB diploma programme), standardized tests for students starting in Grade 6. It is an 11-year system as opposed to the American 12-year system.
Students pass the General certificate of secondary education IGCSE test to graduate from secondary school, on the basis of which calculate the total score to qualify them for admission to universities and limit all questions to the curriculum.
It provides high levels of education and high school diploma that help students qualify for entry to international universities in the USA or the UK.
The biggest drawback of this approach is that it may put psychological pressure on some students, as the total score that the student gets depends on his performance in the final exam only.
In addition, expect the student to choose specialized subjects at an early age, he may not be ready to pick his specialty yet.
This system suits:
Students with the ability to perform under pressure.
Students with a vision for the future to define their major at a young age.
Those with high concentration and the ability to memorize and make a typical effort.
Students who are able to work alone.
Which one is better for my child?
As we said before, the flaws of the American system may be advantages for some, and the flaws of the British system may be advantages for some.
As a parent or guardian, you must focus your choice on which one will prefer your son, and which one suits his way of thinking and his academic style.
Can your child study and collect information under supervision and pass tests to increase his cumulative score?
Or does he prefer to work solely to determine his specialized subjects at an early age, and pass the final exams for university admission without submitting to the mercy of the cumulative total?
Also, You need to discuss these questions with your children to discover their preferred system in which they'll be able to study and get higher results and achieve their educational goals.
What does Rowad Al Khaleej School offer?
Rowad Al Khaleej International Schools offer a globally accredited American curriculum (Pearson), and for the private section, we follow the national curriculum followed in the Kingdom, and its subjects include the Arabic language, Islamic religion, and national identity materials.
So, Gulf Schools adopt unique teaching methods that focus on developing students' personalities and building leadership skills and creative thinking.
This is in addition to encouraging them to actively participate in society through modern teaching methods equipped with e-learning tools and interactive smart devices that increase students' enthusiasm for interactive learning methods.