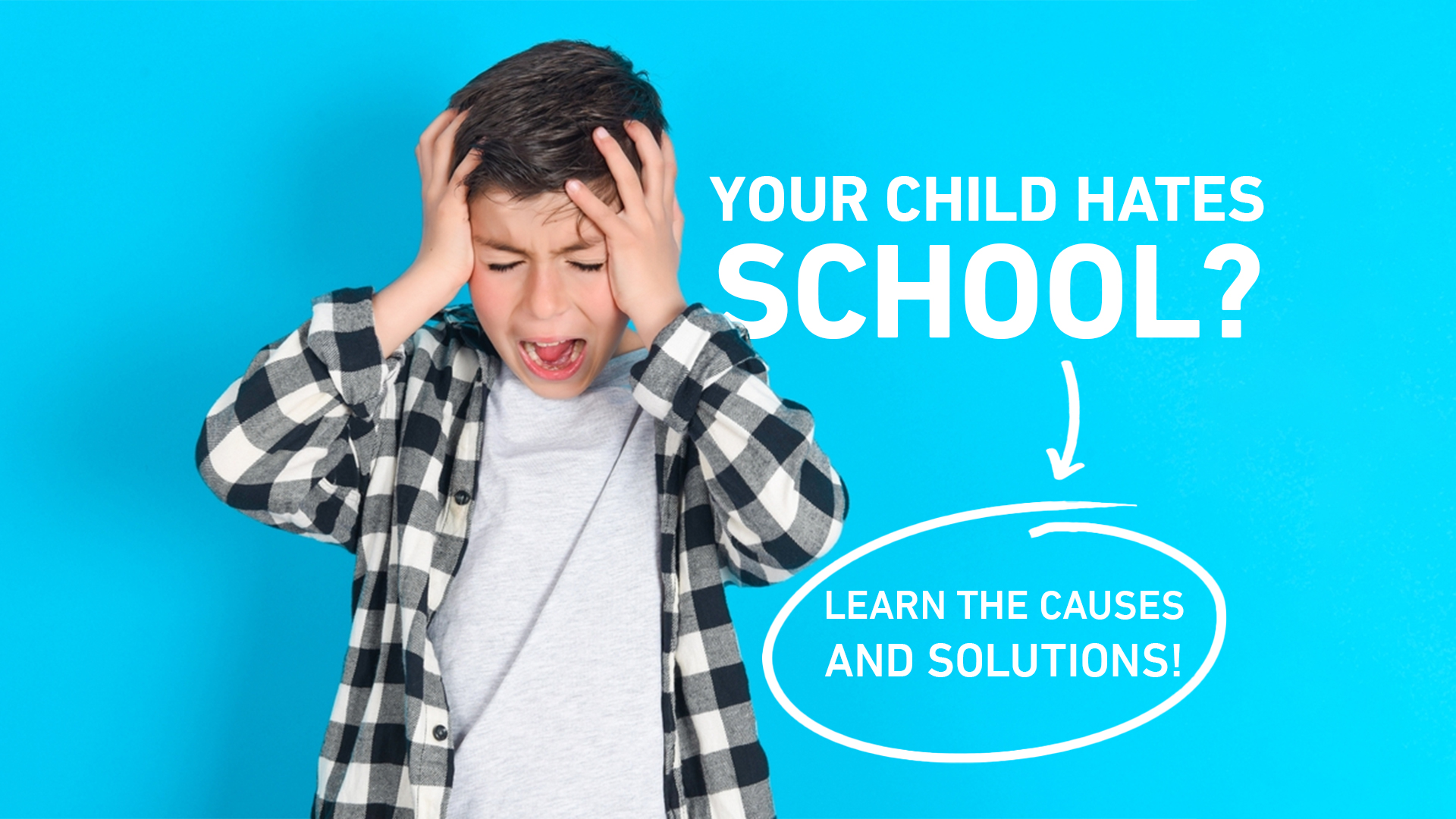 In conjunction with coming back to school, many children are starting their new school year with a lot of enthusiasm to meet their school friends again and do their favorite activities, play, and engage in different school activities.
But this is not the case for all children. Some children worry about going back to school and the beginning of the school year becomes a source of great concern for them. What are the reasons and what are the best solutions? Here are the details.
Reasons why a child hates school
Many children tend to hate school, especially in the early years of school, and this is due to many reasons, the most important of which are:
School friends are the most important motivating factor in a child's admiration for school and vice versa. If your son spends his school hours alone at all times, eats alone, and plays alone, feeling that everyone has a group of friends except for him, this will develop his sense of resentment toward school, and boredom and reduce his self-confidence.
Despite the ongoing campaigns to prevent bullying, it is still a major problem for many children that causes them to hate going to school and to feel constant anxiety, especially if the bullying is physical or verbal.
Teachers have an essential role in the lives of children, especially in the early years of school. Either their influence is positive or negative to the extent that the child hates the subject, his grades deteriorate, and he hates the whole school!
Especially if the teacher has a harsh attitude, tough words, and constant criticism of the student, and vice versa, the teacher can, with smart teaching methods, attention, and sympathy with students, increase the student's love for the subject he is teaching and make the learning environment interactive and healthy so that students achieve the required achievements.
Difficulty learning and understanding the material
Children's abilities to understand and comprehend are not the same, it is normal for them to face some difficulties in learning, especially in the early school stages, and these difficulties may cause the child to worry and feel a sense of failure and stress before going to school.
Lack of a sense of belonging
Some children are different, and their interests and temperament differ. They may not be in line with normal or traditional methods of education or normal activities, which makes them feel somewhat excluded and increases their sense of loneliness.
If your son is basically shy, which makes him tend to be isolated and introverted, the school may not become his favorite place, as he increases fear and tension in class and refrains from appearing or answering questions or even asking about something he does not understand, thus increasing his refusal to go to school and be there.
Signs that show your child hates school
Some physical and psychological signs of a child's dislike of school may appear, even if the child does not express his feelings of discomfort or hatred towards school. These signs include:
Diarrhea
Stomach pain
Nausea
Outbursts of anger
Anxiety
How to deal with this problem?
Talk to your child every day, ask him about his day at school, and pay attention to details to discover the problem that causes him to hate school.
Help him/her make friends by scheduling play day and study with a classmate who lives close to where you live
Communicate with the school and the teaching staff, if the child suffers from bullying, difficulty in learning, or shyness.
Time management, to add a little playtime, fun, and rest for your son to get excited about coming back from school to do the fun activities he loves.
The role of the mother in making the child love school
When talking about the role of the mother in making her child not hate going to school, we see that she must follow these methods, which are:
Prepare the child that he will go to school to receive an education, giving examples of lovable and successful personalities to be an example in front of the child.
It is necessary to prepare before entering school, buy the little one's needs, and let him choose the bag, writing instruments, colors, and everything.
The beginning of a preparatory stage for school is one of the necessary things that pave the way for compulsory studies, as it teaches him discipline from an early age.
The mother should make going to school a wonderful and loving experience by making a visit to the school before the start of school with him.
Teach your child before he enters school
The mother should try to educate her child before he enters school, and one of the effective methods is games and a lot of repetition. A mother can help her son learn by stimulating her commitment to the age limit for her son's entry to school.
1- Accompany him to school:
One of the ways to make a child love school is to have his mother accompany him there for an entire day and then withdraw gradually.
2- Share his study with him:
Helping the mother with her child in studying, planning for it, organizing his time, and training him on the correct ways to remember, is beneficial in his love for school. The mother must prepare the appropriate place for her child to study from the place, lights, and office, and keep distractions away from it.